Tuesday 10th at 8:30pm, Casual Bites.
Lewis Mudge has been living in Africa for ten years, in Lesotho, Morocco, the DRC, Rwanda, Burundi and Kenya. While in the DRC from 2008 to 2011, he became obsessed with climbing the Congolese side of the Rwenzoris. Climbing it three times over, he established the Congo Ski Club in 2013 (not to be confused with the Ugandan Ski Club). As the founder of the Congo Ski Club he is president for life.
Check out the video of this trip of the Congo Ski Club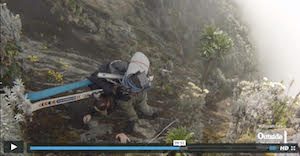 Lewis also made the first climb up Mikeno (4,500 meters) in 28 years, according to Virunga National Park. The park did a blog post on this expedition here. He has climbed 7 of the 8 Virunga volcanoes. He was half way up Nyamilagira in 2010 when he was turned around by fighting. Once that little 3,000 meter hill has been climbed, he will leave Africa.
He will be sharing photos and tales of some of his most exciting and bizarre expeditions with us. Tuesday 10th at 8:30pm at Casual Bites