INTRODUCTION
In 1997 UNESCO inscribed Mount Kenya a World Heritage Site as "one of the most impressive landscapes in Eastern Africa with its rugged glacier-clad summits, Afro-alpine moorlands and diverse forests that illustrate outstanding ecological processes". Since 1978, the area is also an International Biosphere Reserve. Mt. Kenya, an extinct volcano that last erupted between 2.8 to 3.2 million years ago, was gazetted a National Park in 1949 and a National Reserve in 2000 and is managed by Kenya Wildlife Service (KWS).
In the 2800 sq km National Park and National Reserve are over 800 recorded plant species with 81 species being endemic to Mt. Kenya; There is also a wide variety of wildlife such as elephant, buffalo, eland, bushbuck, waterbuck, zebra, hyena, colobus monkey, white-throated guegnon and common at higher altitudes, the ubiquitous Mt Kenya rock hyrax. Animals rarely seen include leopard, bongo, giant forest hog and rhino.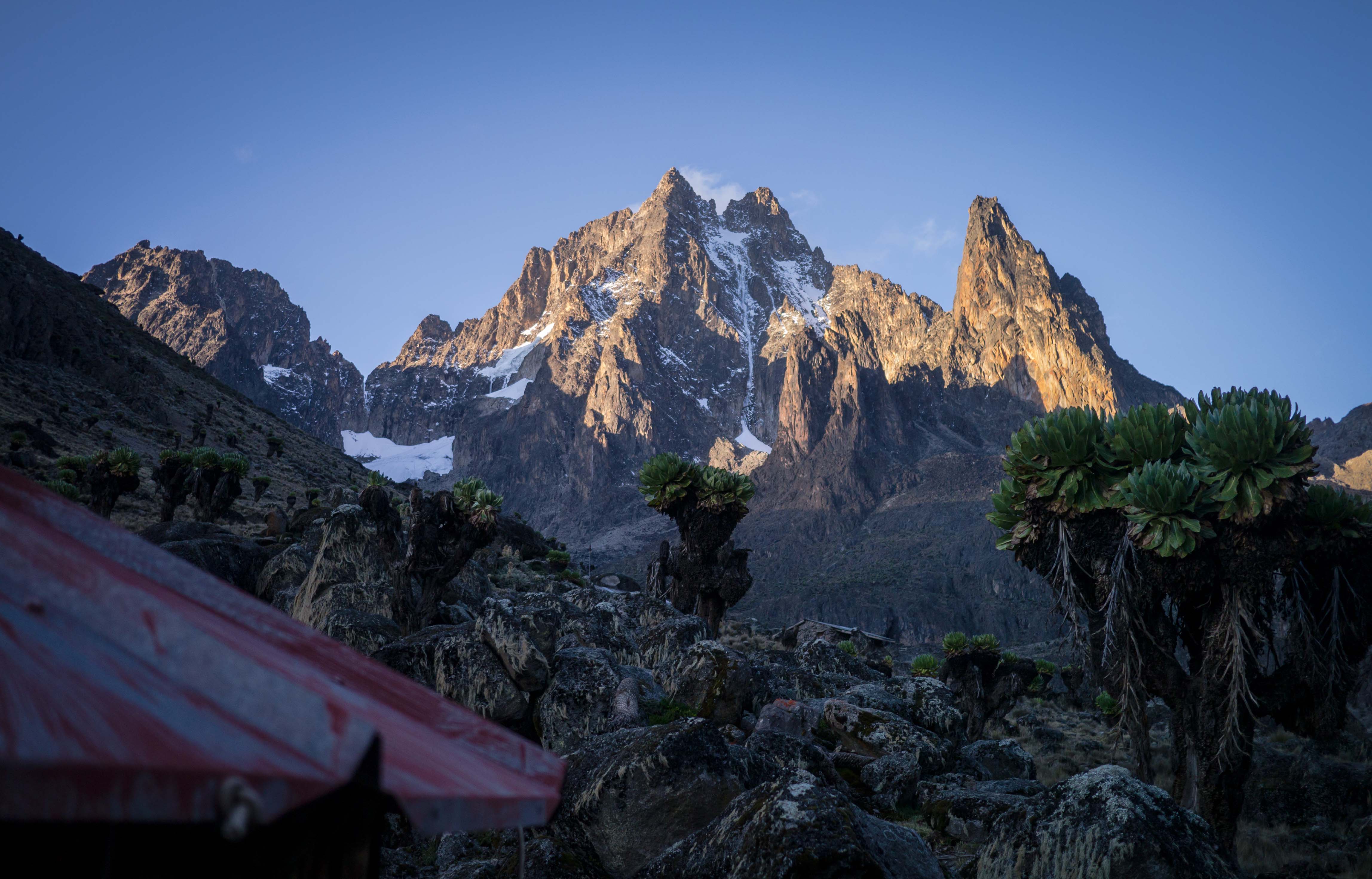 The elevation range is approximately 2200 metres to 5200 metres and includes several distinct vegetation zones: Mixed broad-leaf forest, Gallery Forest, Bamboo, Giant Heath and Hagenia, moorland tussock grasses, Giant Senecio and Lobelia-and, at the uppermost elevation, rock and ice.
The peak area is formed from the hard core or plug of the volcano, the crater having long since been eroded away, and rises steeply on all sides some 450 m above the glaciers and scree slopes. There is excellent rock and ice climbing of a high standard to the twin summit peaks of Batian (5199 m) and Nelion (5188 m). The third highest peak is Pt. Lenana (4985 m) which can be reached by any fit walker, suitably equipped.
Despite its size, it is possible to gain altitude rapidly on Mt. Kenya and overzealous climbers run the risk of high altitude sickness. Mt. Kenya is responsible for a large proportion of the world's high altitude pulmonary oedema cases (a potentially fatal form of High Altitude sickness). This can be prevented (and the experience made more enjoyable) if a sensibly slow approach is made.
Also, because Mount Kenya is so close to the equator, night can descend with surprising rapidity, only about half an hour after the sun has set, which can catch out visitors from further latitudes.
Mount Kenya, like most mountains, can be a very dangerous place. Many people are injured and even killed each year. Do not attempt the mountain if you suffer from any health problems, or if you do not have the appropriate gear.
KWS regulations require all visitors to register upon entrance to the mountain and sign out on departure. Hiking alone is prohibited. No burning is allowed. Take all litter out with you.

ACCESS
Mt. Kenya is some 200 km north of Nairobi. Good tarred roads lead to Naro Moru (west side), Chogoria (east side) and Nanyuki (north side). From these locations, dirt tracks (20-30 km in length and often in very poor condition, necessitating 4 wheel drive, or walking) lead up to the three main roadheads and park gates at elevation 3000 m. Car hire in Nairobi is readily available and costs around US $80 per day (including collision damage waiver), plus US $0.50 per km, plus petrol. Public transport; scheduled buses, country buses, minibuses (matatus) and Peugeot 504 (speedtaxis) are plentiful and serves the tarred roads on both sides of the mountain. Scheduled buses generally leave early in the morning from the operator's own terminus and it is advisable to book them in advance. Normally tickets have to be purchased through to the next major town (Nanyuki for Naro Moru, Meru for Chogoria). Country buses are similar but leave when full and stop regularly – they are very slow. The country bus station is located on Landhis Road, Nairobi whilst minibuses and speed taxis will be found on Accra Road. These forms of transport are cheap but very crowded. To get to the roadheads one has to walk or arrange fairly expensive transport through Naro Moru River Lodge (US $75 for a vehicle to Naro Moru roadhead) or possibly from Mountain Rock (formerly Bantu Lodge).
Hitchhiking is unreliable, though it is sometimes possible to get a lift up the Chogoria route on the Meru Lodge Landrover. Entry to and exit from the Mt. Kenya National Park and Reserve can only be made during daylight hours. The forest zone can be dangerous due to buffalo and elephant, especially at night. Although the higher huts on the mountain can be reached in one day from the road, we strongly recommend that two days be taken unless you are already acclimatised.

PARK FEES ON MT. KENYA
The most up to date Kenya Wildlife Service Park fees can be found on their web page.
GUIDES AND PORTERS
Beware of rogue guides and porters. All guides and porters must have valid KWS issued cards. These are bona fide licenced groups offering guiding and porter services. This is a benefit to the visitor since guides and porters are granted entry to the park at half price with such a card. Also any problems with the guides/porters can be followed up since they are known and registered groups rather than "unknown youth", many with a criminal record, off the streets of major towns who may not have any mountain experience. Visitors should obtain receipts for payments made for the park/reserve, which must be shown when leaving.
Porter and guides for Pt. Lenana and other trips can be hired for about US $10 per day if required through (i) Naro Moru River Lodge (ii) Mt. Kenya Transverses, PO Box 83 Chogoria, Tel. Meru 064-20781/2 (iii) Mountain Rock (formerly Bantu Lodge), and (iv) Mt. Kenya Guides & Porters, PO Box 128, Naro Moru, Tel. 062-62015. Porters carry 18 kg and require to be transported to and from the roadheads (or extra days paid in lieu) and payment of park/reserve entry fees (Special rates at K.Shs. 50 per day).
ENVIRONMENT
Do not burn any vegetation, particularly dead Lobelias and Groundsells at the higher altitudes, which form an important part of the mountain's fragile ecosystem. There have been several huge fires in recent years over both higher and lower slopes. Carry out all your litter.

POINT LENANA
With recent warming and recession of the glaciers on Mt. Kenya, the Lewis Glacier now often has a hard snow or ice cover, making walking over it hazardous without the proper equipment (crampons, ice axe). Climbers particularly should take special note of changes to climbing routes due to the shrinking glacier cover.

THREE MAIN ACCESS ROUTES
Visitors approaching the mountain from a route other than the three main routes (Naro Moru, Sirimon, or Chogoria) must inform the Senior Warden's office beforehand as this is a legal requirement.
The Naro Moru, Chogoria and Sirimon Routes are by far the most common routes up the mountain. Other routes have existed in the past, but have now fallen into almost total disrepair and considerable navigation skill and physical strength and stamina are now required to attempt them, as well as a permit from the Park/Reserve Headquarters.
A tent is useful if weight allows. Otherwise, the mountain has several huts. Most of the huts are privately owned. If you plan to stay in huts, please contact the appropriate organisations for bookings. Fees help maintain the huts.
It is recommended to spend at least one night at the roadhead to help acclimatise.
NARO MORU
The Naro Moru Route is most popular, being the shortest distance from Nairobi, serviced with huts and offering quick access to the mountain.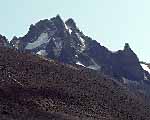 A bunkhouse and self-service accommodation exist at Naro Moru River Lodge, 1.5 km from the main road. Basic self-service accommodation is available at the roadhead at the Met Station, and Mackinder's Camp at 4200m in Teleki Valley, accommodating 66 people. Both are owned by Naro Moru River Lodge; the fees at Met Station for residents 1000 Ksh (non-residents US$12) per person per night, and 1200Ksh for residents (non-residents US$15) at Mackinder's Camp (payable at a booking agent, the park/reserve gates, or at the huts). MCK members pay discounted rates when booked direct with the lodge.
Austrian Hut is manned by KWS staff , and costs 1500 KSh per night. Payment can ONLY be made at the park/reserve gates for which a receipt MUST be obtained. Unplanned or additional nights at Austrian Hut are possible but payment for this is made at the park gate on exit against a receipt and NOT direct to the staff manning the hut.

CHOGORIA ROUTE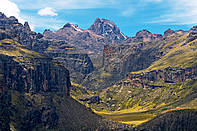 The Chogoria Route is the most picturesque trail and is a tent route which you will be asked to show at the park/reserve gates before you will be let in. The Mintos hut is for porters use only. Meru Mt. Kenya Lodge at Chogoria costs US $15 per person.
SIRIMON ROUTE
The Sirimon Route is serviced with huts and offers the least strenuous but long walking ascent to the mountain from the roadhead.
Old Moses Camp (formerly Judmier Camp) and Shipton's Camp are owned by Mountain Rock (formerly Bantu Lodge). Both offer self-service accommodation.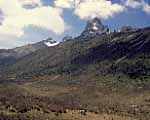 Old Moses (formally Judmier) at the roadhead, costs 1000 Ksh for residents and US$12 Ksh for non-residents.
Shipton's Camp at 4250m in Mackinder Valley, sleeps 40; it costs 1200 Ksh for residents and US$15 for non-residents. MCK members pay discounted rates when booked direct at the lodge.
Both of these can be reserved in Nairobi, at the Mountain Rock Hotel in Nanyuki, or on site.
There are now 2 older unattended huts (see below) on the mountain, holding from 4 to 15 persons, which offer basic shelter but generally lack facilities and are in varying states of repair. .
Most visitors to Mt. Kenya travel on a few, heavily used routes. This makes it all the more important for you to follow these minimum impact guidelines.
HUTS
Two Tarn Hut and Kami Hut have been removed.
Minto's hut (4297m)on the Chogoria route is now for porters use only. The Chogoria route is only for parties equipped for camping. Tents must be shown at the Chogoria park gate before parties are allowed access. Owned by KWS.
Liki North hut (3993m) is situated on the north-western moorlands. Parts of the roof now missing. Owned by KWS.
Baillie's Bivvy (5000m) and Urumandi hut (3063m) are unusable.  Howell hut (5188m) on the summit of Nelion has been refurbished recently. These are owned by the MCK.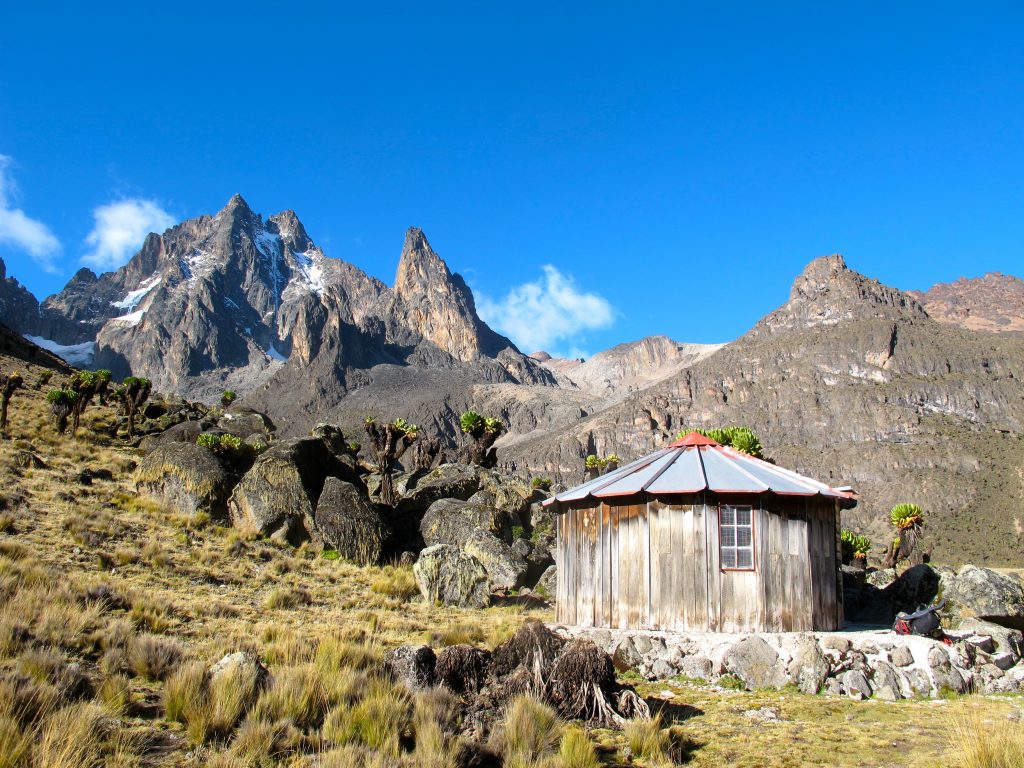 WALKING
Most enjoyable during the dry seasons, particularly in January, February, early March and August when the best views are expected. Besides the ascent of Lenana, the circumnavigation of the main peaks is recommended. For the adventurous, carrying a tent is worth the extra weight as reliance on huts can be restricting. Route finding can be difficult in cloudy weather and unguided parties must be suitably equipped, and familiar, with map and compass.
The easiest route up Point Lenana is from Austrian Hut and usually goes onto the Lewis Glacier. Always take proper precautions when on any glacier. Point Lenana can require at least an ice axe at some times of the year. There is a route up to the summit of Point Lenana from the north, but it is steep and loose and should only be attempted by the experienced.
Stay on trails whenever possible. This protects the surrounding vegetation and prevents soil erosion. If you are hiking where no trails exist, spread the impact so that you don't create new trails. The environment in mountain areas can be extremely fragile. When taking breaks, choose areas that will not show much human impact, such as rock or bare ground. Sitting on vegetation leads to its destruction.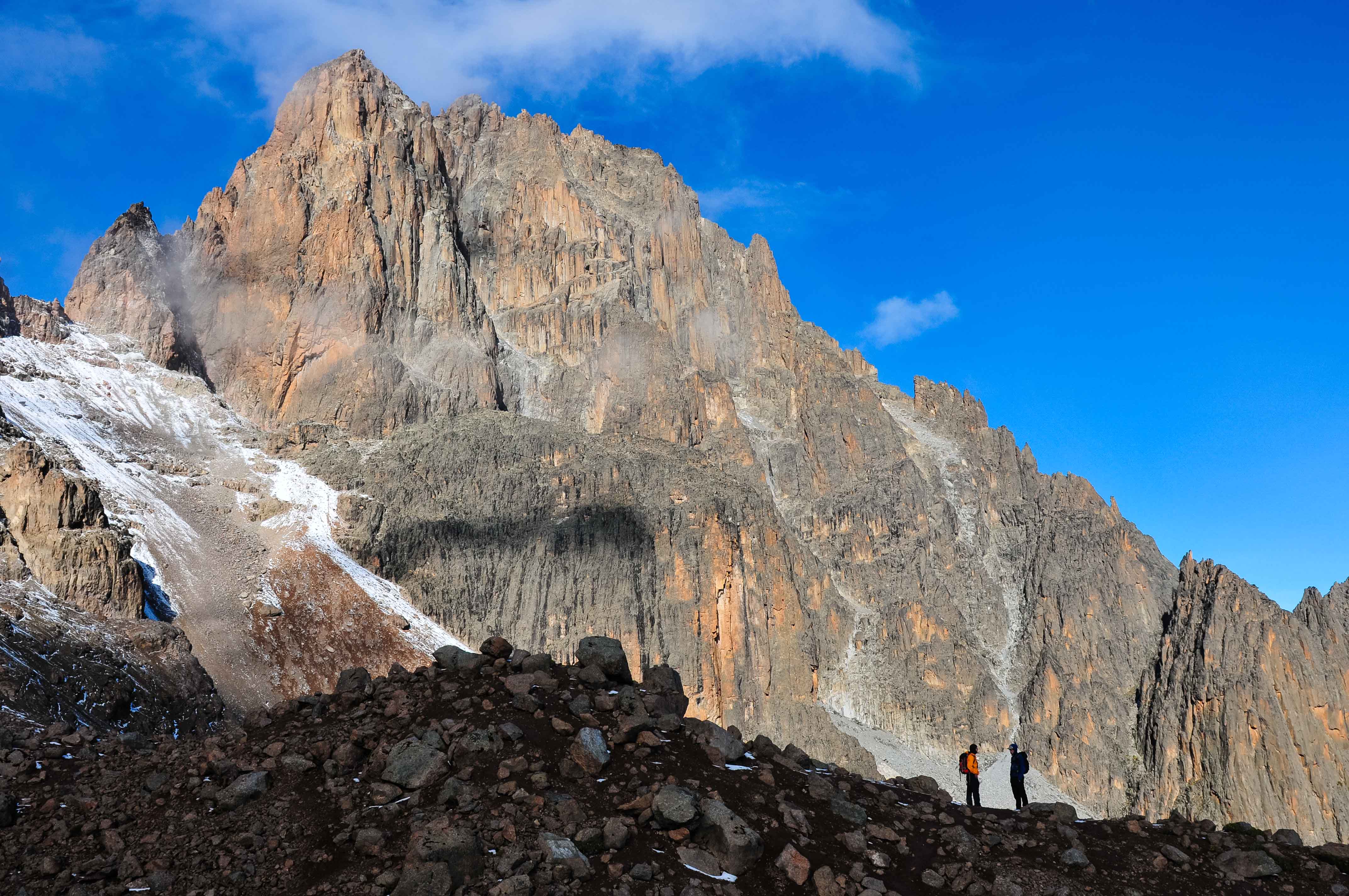 IF YOU GET LOST
"It can't happen to me." or "I don't need a survival kit."
Particularly in the featureless moorland zones, it can be easy to get lost. Nearly fifty people have become lost on Mt. Kenya since 1990. People tend not to think about or anticipate emergencies. Start now. If your gear is being carried by porters (who hike separately from clients) or you are on a day hike or a summit bid, then you must have a day-pack containing at least the following essentials: instant body shelter (warm and water proof), fire making capability, signaling capability (small mirror), food and drinks, First Aid package, map, compass and torch.
It is important to be aware of your intended route. The most common cause of getting lost is when swift moving clouds envelop and area and hikers lose the trail – often walking further away in an effort to regain the trail. Stay where you are if visibility is poor. If you become lost do not panic, take shelter under a tree, senecio or rock overhang and stay where you are. Help will come, but it is typical to be out overnight. In sunlight, use a mirror to signal and lay out a brightly coloured article to alert the searching aircraft or hiking rescue party. Consider safely lighting a fire with dry grass, twigs, roots and branches and once burning well, generate smoke by adding small amounts of green vegetation without suffocating the 'source-fire'. Be careful not to set the environment on fire and endanger yourself. Being on a ridge top will make you more visible. Do not descend into a valley or forest as this will make you difficult to find and could take you several days of hard going to emerge into human settlement. There can be a fee for any rescue the park carries out.
CAMPING
When you camp, try to pitch your camp in already existing camp sites, rather than choosing virgin spots. If no existing camp site is available, try to pitch your camp away from trails and water sources. In areas of heavy use, choose campsites that show obvious use. This concentrates the impact in one area and prevents widespread destruction of the environment.
In areas where previous use is not obvious, camp on durable surfaces such as rock or bare ground, instead of vegetation. Camping at least 50 metres away from water helps prevent contamination of the water by human waste. In all cases, try to leave the camping area in better condition than you found it.
You must bring a camping stove for your cooking. Camp fires are not permitted above the forest edge in Mt. Kenya National Park & National Reserve. While there may appear to be wood available for fires, the small amount present is an important source of nutrients for the soil and future plant growth. Therefore, a camp stove should be included in your equipment.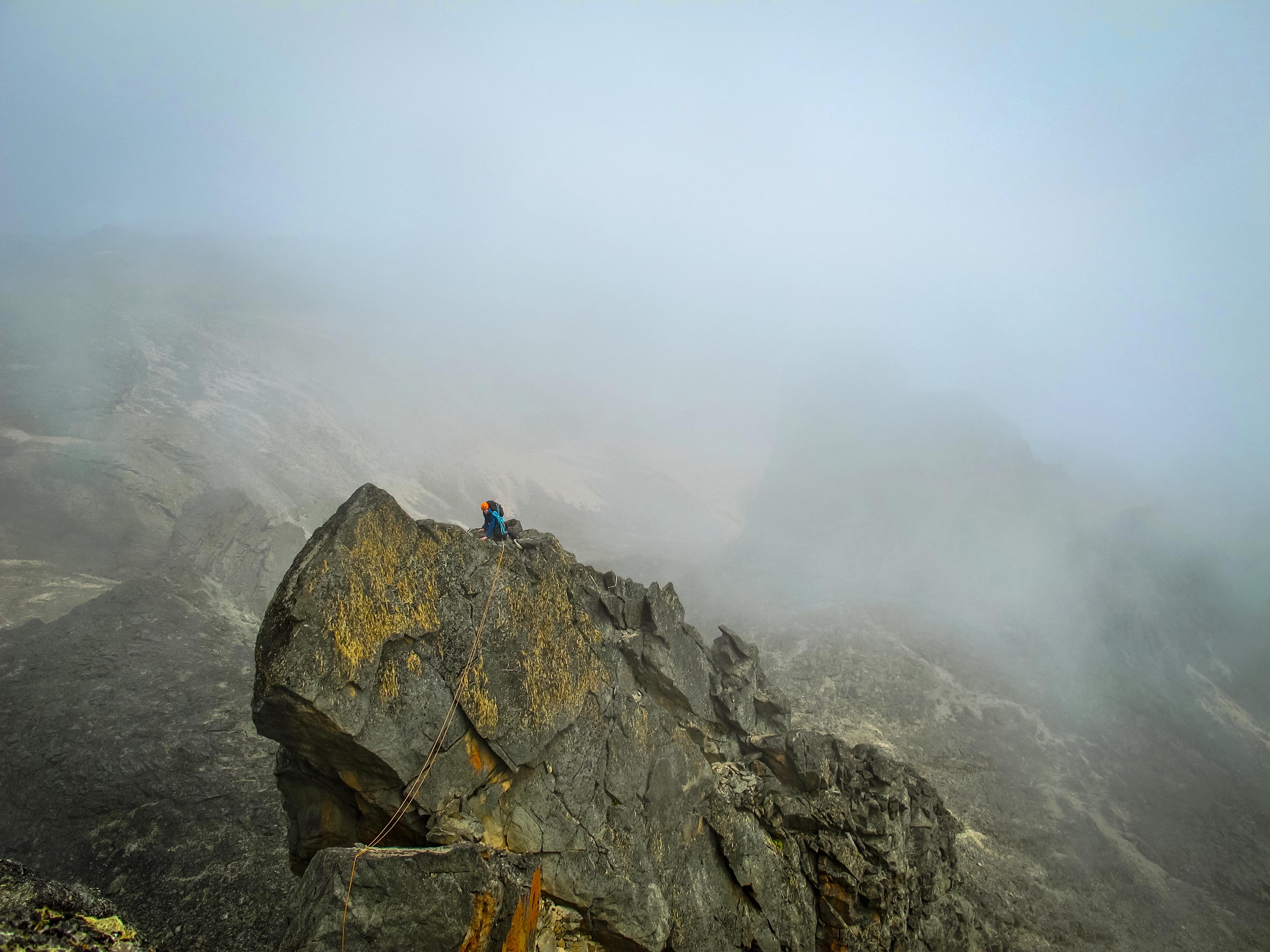 CLIMBING
The easiest routes to the highest peaks, Batian and Nelion, are IV (UIAA grading). Few parties reach Batian summit and descend before nightfall. There are more than 25 routes to the main summits of which 8 are ice routes concentrated on the south and west sides. There is little scope for new routes. 90% of visiting climbers underestimate Mt. Kenya and it is unlikely that more than one route to the summits will be made in any one visit to the mountain. There are good shorter climbs on outlying smaller peaks.
Climbers particularly should take special note of changes to climbing routes due to the shrinking glacier cover. Some climbs have seriously changed.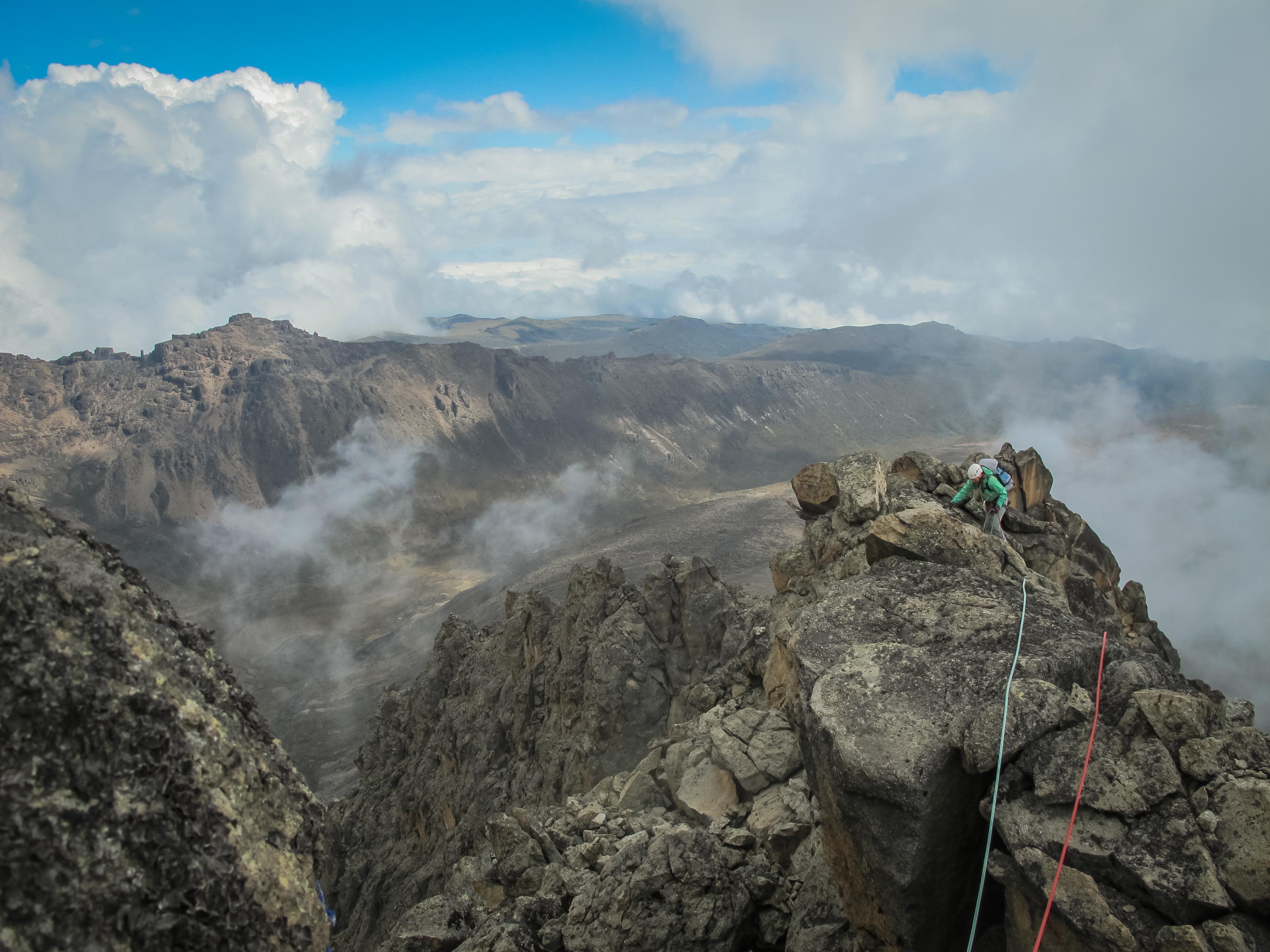 SEASONS
Although Mt. Kenya is situated on the equator it has very definite summer and winter conditions on its north and south faces. The two rainy seasons (around mid March to June and October to December) can make the approach difficult and the rock routes wet or verglassed. Attention should therefore be paid to choosing the correct time to climb the mountain. Rock routes on the south side are usually in condition from end of December to mid March and on the north side from late June to mid-October. Ice routes are normally in condition during the same periods given above but on the opposite face of the mountain. East facing rock routes tend to be free of ice during both dry periods.
Climbers particularly should take special note of changes to climbing routes due to the shrinking glacier cover. Some climbs have seriously changed.
WILDLIFE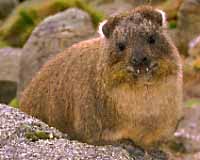 Wild animals on Mt. Kenya do not normally come in contact with hikers and because of the dense forest most species are rarely seen. If surprised or provoked they, particularly cape buffalo and elephant, may attack. Talking, frequently clapping or making a 'hooting' sound while hiking through the forest zones warns animals you are approaching and they should move away from you. Do not approach the animal or proceed along the trail if it fails to move away. Consider backtracking away from elephant and buffalo in particular. Feeding wild animals disrupts their natural behaviour and this includes monkeys, hyrax and birds. You may also be attacked if the animal is aggressive, so exercise caution and leave the wildlife alone. Do not break twigs or branches and leave flowers to grow where you find them — that is where they are most beautiful.
WASTE DISPOSAL
Refuse left by careless hikers is not only an eyesore but can also be harmful to all forms of wildlife.
There is no proper means of waste disposal on the mountain other than packing litter out. Buried litter breaks down extremely slowly in this environment and is liable to be dug up by animals. Unsightly and unhealthy garbage pits result. Burning is illegal.
You will be asked to produce your litter at the gate on your return.
If you have extra supplies, give them directly to someone who will use them. Do not leave them out with the litter. Do not feed the animals as this disrupts their normal existence, increases impact on vegetation surrounding the huts / campsites and could result in the destruction of the animal itself.
Be a part of the Mt. Kenya cleanup effort. Bring back more than just your own litter. This will help make the mountain cleaner.
SANITATION
With so many individuals concentrated in limited areas on the mountain it is vital to protect water sources from contamination. Plan on purifying all drinking water, either by boiling, filtration, or use of purification tablets. Never use soap directly in water sources. Even the best biodegradable soaps take several days under ideal conditions to break down. Where possible move at least 10 metres away from the water sources before using soap.
Human faecal material is a major source of water contamination on the mountain. Where they exist, use an established toilet (choo). Ultraviolet radiation from the sun and organisms present in the soil are the best decomposers of human waste. At high altitudes those soil organisms are not very abundant. Therefore, sunlight provides the best form of decomposition. Select a site well away from campsites, trails and at least 30 metres away from water, with lots of sunlight exposure. Leave faeces on the surface of the ground. Scattering and smearing the faeces around will maximise exposure to sunlight. At lower elevations such as below 3500 metres where soils are rich in decomposing organisms, burying faeces in shallow holes is the most effective method. Toilet paper and sanitary towels should be packed out with other litter.
MOUNTAIN HEALTH
The combination of strong equatorial sun and thinner air makes sunburn and snowblindness very common. Protect your skin and eyes from the sun. Dehydration predisposes hypothermia and altitude illness. Drink 4 to 6 litres of fluids per day. A diet high in carbohydrates supplemented by other foods will best prepare your body for the challenging alpine environment.
Headache and slight nausea are common effects of altitude for the first night above 4,000 m (13,000 ft).
Dress right, eat right, drink right – These guidelines may save your life. Extremes of heat, cold, wind and sun can adversely affect visitors to Mt. Kenya. Temperatures range from 30°C (90°F) to ­15°C (0°F). Hypothermia or exposure is a life threatening lowering of the body core temperature. It can occur in air temperatures as high as 10°C (50°F). UV protection and dark glasses should be carried.
HYPOTHERMIA or EXPOSURE
Signs/symptoms are clumsiness, stumbling apathy, lethargy, loss of enthusiasm and thinking ability, disorientation and unconsciousness.
Treatment requires early recognition and aggressive steps to warm the hypothermic person. Find shelter. Remove wet clothing. Create a warm and dry environment for the victim. Put the victim in a sleeping bag with one or two other people stripped to their underclothes. If the casualty is able, drinking warm, high caloric fluids like cocoa will help. The recovering hypothermic person will need rest and should be taken off the mountain. (see below)
The combination of strong equatorial sun and thin air makes sunburn and snowblindness very common. Protect your skin and eyes from the sun. Dehydration predisposes hypothermia and altitude illness. Drink 4 to 6 litres of fluid per day. A diet high in carbohydrates supplemented by other foods will best prepare your body for the challenging alpine environment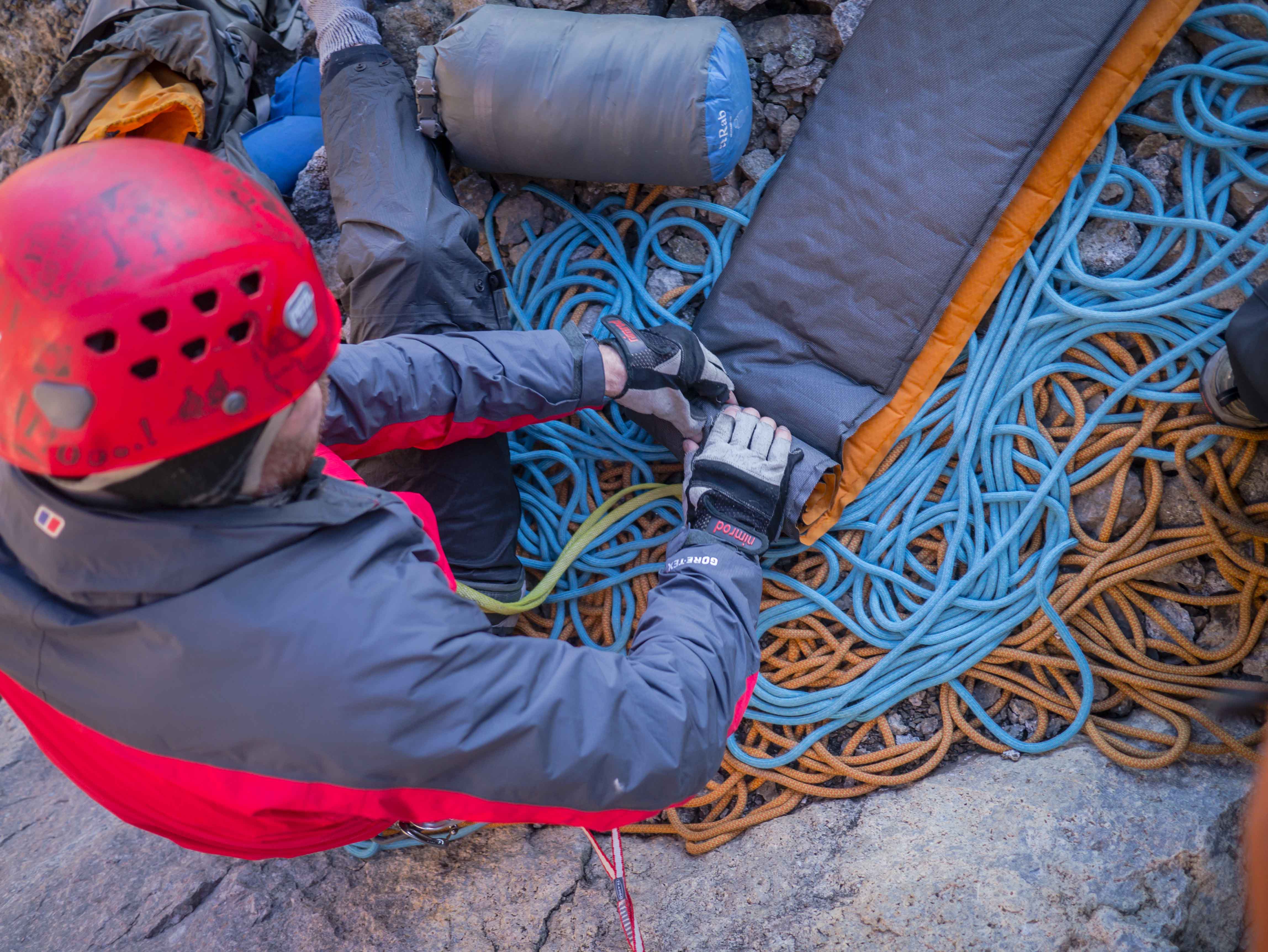 ALTITUDE SICKNESS
Above 3,000 m, very few visitors avoid altitude sickness completely. Visits are much more enjoyable if you allow two nights either at the road heads at 3,000 m, or at the higher huts at around 4,000 m. before proceeding higher. On the first day, hiking from the park gates to the road-heads is strongly recommended. Increase fluid intake to 4 to 6 litres per day, avoid extreme physical exertion and eat a light diet high in carbohydrates. Take the symptoms seriously. Rest and acclimatise if AMS is suspected. Immediately report to the rescue ranger station and descend if High Altitude Pulmonary Edema or High Altitude Cerebral Edema is suspected.
At high altitudes, the available amount of oxygen decreases dramatically. This can result in medical situations that must be of concern to every visitor. These range from Acute Mountain Sickness, with various degrees of discomfort, to High Altitude Pulmonary Edema and Cerebral Edema, both of which can be fatal. Because cases can progress rapidly fram mild to severe, recognition of symptoms is essential.
Acute Mountain Sickness (AMS)
Signs/symptoms: Headache, nausea, fatigue, malaise, loss of appetite and difficulty sleeping.
Treatment: Slow down, stay in camp, drink plenty of fluids and rest while the body adjusts to the altitude. If symptoms persist after 48 hours, descend.
High Altitude Pulmonary Edema (HAPE)
Signs/symptoms: Shortness of breath during exercise progressing to shortness of breath at rest, a dry cough deteriorating to a frothy sputum, audible gurgling (rales) from the chest area, increased heart and breathing rate.
Treatment: Immediately descend and seek medical attention. Descent is the only treatment as High Altitude Pulmonary Edema does not improve with rest at altitude. Symptoms can progress quickly to a point where the victim cannot walk.
High Altitude Cerebral Edema (HACE)
Signs/symptoms: Symptoms of Acute Mountain Sickness that progress to severe headache, loss of co-ordination, slurred speech, irrational behaviour, then coma.
Treatment: Same as High Altitude Pulmonary Edema: descend.
Some climbers find that certain drugs can help prevent or reduce AMS symptoms, but these drugs should never be used to treat AMS/HAPE/HACE. Consult your doctor before going to the mountain.
EMERGENCY PROCEDURES
In case of an emergency (a severe injury or illness where outside help is needed) contact a KWS official immediately. The Ranger Station the head of the Teleki Valley and Austrian Hut are permanently manned as is the Met Station and the Naro Moru, Sirimon and Chogoria Gates. All have radios. You may also be assisted at Mackinder's Hut in the Teleki Valley and Shiptons Hut in the Mackinders Valley. Write down all the information on the victim's condition and location. Mark the victim's position on the map. Be familiar with the nearest source of help while on the mountain.
EQUIPMENT & CLOTHES
Little camping or climbing equipment if any can be bought in Nairobi. Some equipment can be hired from Naro Moru River Lodge and East Africa Mountain Guides, but should not be relied upon. Generally, alpine equipment is adequate with an emphasis on a good sleeping bag. The nights are long and sometimes down to -5°C. There is often heavy rain and snow but violent storms are rare.
Be sure you have appropriate gear for the duration of your trip. In the wet climate of Mount Kenya, garments of wool and synthetic insulated materials are preferable to cotton or down. When you are hiking with a guide or porters or companions, be sure to keep adequate gear in your rucksack so that you have what you need should you become separated — a map, compass, food, water, first aid kit, warm and waterproof clothing, a signalling mirror,matches/lighter and a flashlight are essential.

FOOD
Supermarkets in Nairobi can supply most food requirements, although specialised lightweight and freeze dried foods are generally not obtainable. For cooking C206 Gaz cylinders and dry cleaning fluid are available and recommended instead of Kerosene which is often dirty. Appetites change with altitudes and the desire for heavy meals dwindles. Plenty of "brewing" ingredients are advised, including tea, chocolate and citrus fruit drinks.
Do not feed any of the animals or birds, especially the Hyraxes.
GUIDES AND PUBLICATIONS
The comprehensive Guide to Mt. Kenya and Kilimanjaro edited by Iain Allan is available whilst principal walking routes are covered in The Mountains of Kenya, a walker's guide, by Paul Clarke. These can be obtained from the MCK or bookshops in Nairobi and even through selected distributors in the UK and USA.The existing "Guide to Mount Kenya and Kilimanjaro" is still the most up-to-date guide of all climbing routes on those two mountains, although few new routes have been done on Mount Kenya since the latest edition (1998).
A selected climbing guide by Andrew Wielochowski is available from West Col Productions, Goring, Reading, Berks RG89AA, England. A 1:125,000 scale tourist map of Mt. Kenya National Park and Reserve and Environs, published by Survey of Kenya, is sometimes available in Nairobi. More useful is the 1:50,000 scale Map and Guide of Mt. Kenya by Wielochowski and Savage, available from West Col, MCK and Nairobi Bookshops (in the same series, maps of Kilimanjaro, Mount Elgon and Rwenzoris are also available).
USEFUL CONTACTS
please see our "Useful Contacts" page under Trip Resources