Lukenya is a group of cliffs located just 45 minutes south of Nairobi (or 1.5h, depending on traffic). There are no facilities in Lukenya, so you need to be self-dependent (take your own water and food, and don't forget to carry all your trash out). You are using the land at your own risk. You can find a topo for Lukenya on The Crag and a book for sale by the MCK.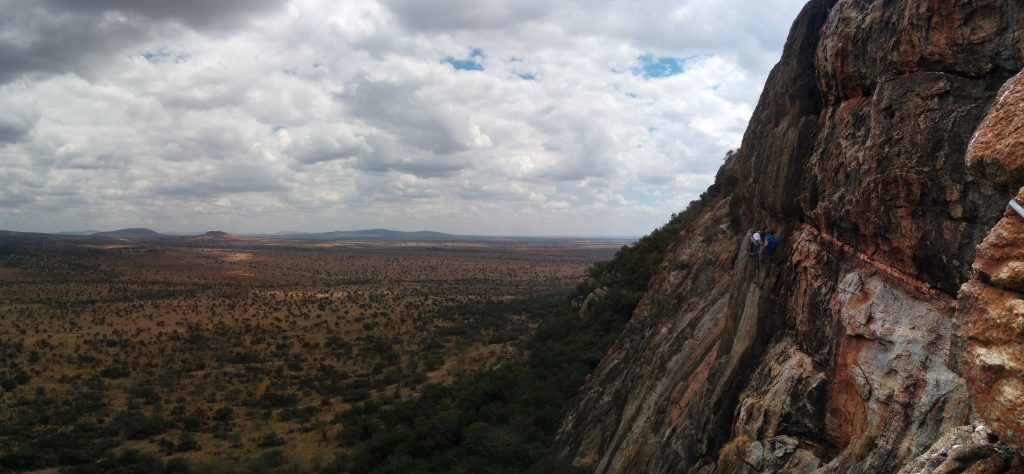 Access
Lukenya is owned by the Mountain Club of Kenya and entrance is free for members. Non-members have to pay for a daily membership (KES400 for Kenyan citizens, KES800 for others, payable by Mpesa paybill no 880926. Account: guest fee). No commercial groups are allowed. Some climbs are occasionally off-limits when eagles are nesting (in particular Eagles Nest Face). If this is the case its normally communicated on a notice in the sign-on book at the gate and through a climber whatsapp group.
Camping
There's a campsite on top of the hill, which has no facilities so you need to bring your own water, food, camping gear etc. If you want to make a fire you'll have to bring your own wood. Never cut trees or bushes down to preserve the environment.
Waste
All waste needs to be taken away with you. There are no toilets in Lukenya, so you'll need to bury your poop. Please walk well away from the campsite and any trail, dig a hole of at least 10 cm deep and bury any toilet paper and your poop inside. Fill the hole and pack it well so rain doesn't uncover it.
Animals and insects
In Lukenya you can often encounter giraffes, zebras, wildebeest, gazelles, dik-diks, hyraxes, baboons, snakes, lizards, tortoises and all kinds of birds (in particular the soaring Verreaux's Eagle). A leopard and hyena family have also been seen there, but keep to themselves. There are also quite a lot of insects and those you're most likely to notice are ticks and chiggers. These can leave itchy bites; the best way to protect yourself is to wear long clothing and check for them, especially after you've passed through bushes or tall grass.
Climbing
Most of the climbs are trad but there are also a dozen sport climbs (mostly at Nemesis), and lots of bouldering. Lukenya offers a variety of climbing routes including face climbs, some jamming cracks, and overhangs in difficulty ratings of up to E4 6b. Lukenya has excellent rock and it's a great place to learn trad.
All of the routes are available on TheCrag website under MCK copyright. We're currently adding photos for the topos.
The also MCK sells two guidebooks for Lukenya: an older one with more routes, and a "newer" one that generally has harder routes. You'll need at least the older one, and maybe the newer one if you want to climb harder routes. You can find a list of the best routes to learn trad by grade here (in Lukenya and beyond). A standard rack will work well in Lukenya with a set of nuts and a set of cams. Some climbs will require size 4 cams, but those are rarely needed.